Home Energy
Bespoke solar systems for your unique home

PET will provide a bespoke system to suit your home.  We choose from a range of different size Tier 1 panels to ensure we can provide you with the most power possible from your available roof space.
This is not a 'one-size-fits-all' service!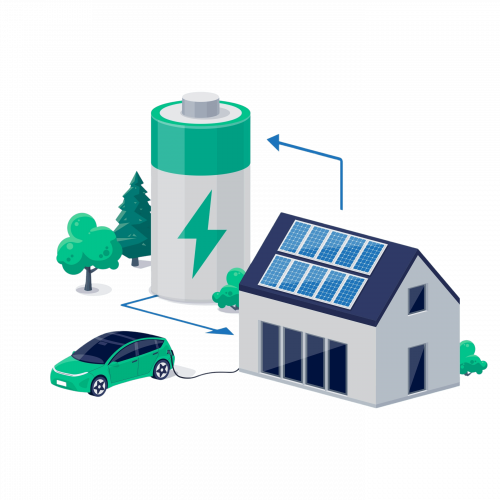 How much will this cost me?
A good starting point is to work out how much electricity you are using each year.  These days, you can find this out from your smart meter or from your electricity bill.  You should also consider if this is likely to increase - you may want to throw out your old gas cooker or be considering switching your heating over to electric.
We will design a bespoke system in line with your energy usage.  Our systems are designed to work with current electricity tariffs to cut your bills down to size.
Once we survey your home, we will provide a detailed quote. The final price will depend on the complexity for the installation that varies with every house.  However, we will always do our best to provide you with the best possible value and a system designed to give you maximum payback in the shortest possible time.
We will always match other quotes where possible.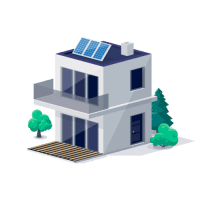 2-3 People

Energy Use: LOW
Consumption approx: 3500Kwh
Solar system Required: 3-4 Kw
Solar Array:  6-8 Panels
Battery Required 5 kWh
Budget from: £9,500
3-4 People

Energy Use: MEDIUM
Consumption approx: 5500Kwh
Solar system Required: 5 Kw
Solar Array:  8-10 Panels
Battery Required 5-10 kWh
Budget from: £12,500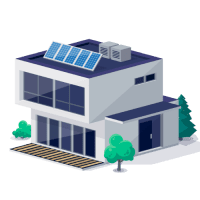 4-6 People

Energy Use: HIGH
Consumption approx: 7500Kwh
Solar system Required: 7-8 Kw
Solar Array: 12-14 Panels
Battery Required 10-15 kWh
Budget from: £15,000
*This table is designed to give you a rough approximation of costs.  Your consumption figures may vary depending on how you power your home.  For example, a couple without gas appliances may use more electricity than a large family in a house who still has a gas boiler and cooker.
Smart Generation
Everytime you see your roof covered in sunshine, think about how much power you are missing out on.  Every square metre on your roof could produce around 200w of electricity from the sun!  A smallish house with 5m x 4m of roof space could provide 4 Kw of continuous power (200w x 20 sqm).  That is more than enough to cover many families' daily use.
Day and Night
Modern battery technology has helped us get the most out of solar power.  Many of us are out at work during the day when the sun is shining (worst luck)!  So, what happens to all that energy?  Now, we can store it up, ready to use when we get home and the sun goes down. Even without a solar system, we can use these batteries to work in conjunction with the latest crop of energy tariffs to take advantage of off peak energy prices.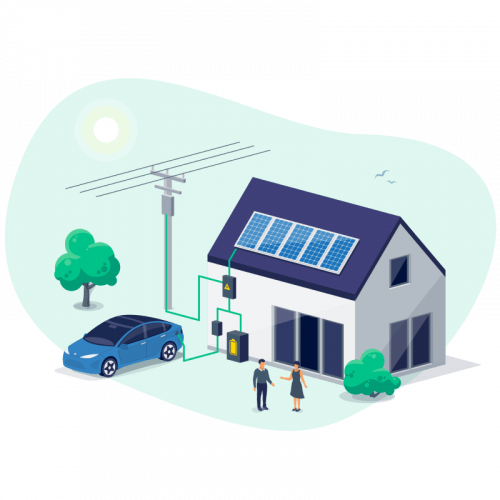 Why Should you use PET
PET was founded in 2015.  After working in the lightweight electric vehicle sector for many years, we decided it was time to explore the growing home energy market. 
Our home technology division aims to cut through the confusion and jargon around sustainable energy. 
PET earned a 4.8* rating on Trustpilot by taking care to build lasting relationships with our customers.  Our team is now working hard to bring this level of service and attention to detail to home energy.



*All installations are carried out by MCS registered contractors providing a certificate for your energy provider
A bespoke instalment was proposed within our quote after a thorough site visit. This came in £5000 cheaper than the competing quote, and with a better system. The other company were proposing a cookie cutter system. I'm glad we went with PET. They explain everything upfront from the initial process to the aftercare. The aftercare is very important, as they just don't build the system and leave. PET keep an eye on the efficiency of the system, and advised me on how I could approach my families energy consumption from day to day, looking at how to reduce our energy consumption whilst attempting to make a minimal impact on our lifestyle. This steps into Energy Consultancy territory. Very happy….
From the beginning of the process both Mark and Nikos were very efficient with putting a proposal together, answering our queries and organising the installation. They also provided good follow up to help us understand the new system and optimise its performance. Very happy overall. Would highly recommend them.
We had a very positive experience and outcome with PET's solar panel installation. We'd been thinking about having solar panels sited on our roof for quite some time and I had previously obtained a number of quotes from other companies. However, none of these other companies (which included one from the Mayor Of London's backed Solar Power project) provided us with a tailored best fit solution. Mark, from PET, spent a lot of time in pre-planning the project; looking at our usage, thinking how to get the best solar panel arrangement on our roof for optimum energy production, as well as thinking through about battery storage, providing advice about switching to a new energy company, so we could sell our excess energy back to the grid and a provision of an electric charge point in anticipation of buying a (hybrid) electric vehicle. The installation itself was not always straightforward, as we had an unusual roof design and structure but Mark and the team were honest when they came up against unexpected issues and worked hard to resolve the problems. We have ended up with a system of 15 panels spread across 2 aspects of our roof and 2 batteries, which is generating a good amount of electricity, even on partially overcast days. We also sell back to the grid, which happens automatically when we have exceeded our our own personal use and storage capacity. Overall, a really positive outcome for our household and would fully recommend PET if you want to feel confident to get a solution that maximises the amount of energy you can achieve off your roof.